Bob the Mover: Niagara Moving Company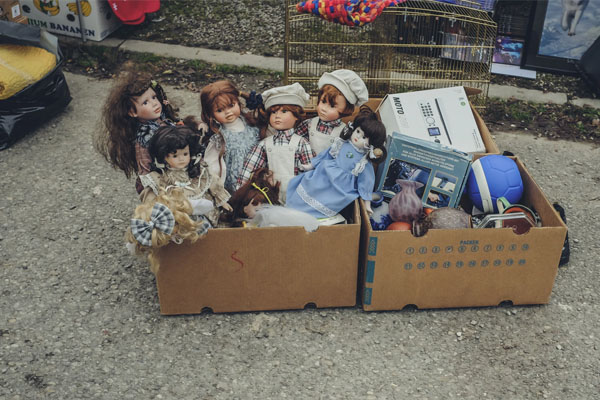 Moving is difficult to say the least. While change is exciting and often brings new challenges. There are a lot of preparations to be made and actions to complete. Don't let it bring you down—moving can be simple if you let it. Starting early will give you an advantage in the process. Deciding what to keep or sell is a big one. As an experienced Niagara moving company, we've got a few tips for you to help streamline this process and help set you up with a yard or garage sale.
1. What to Keep/What to Sell?
The easiest way to make this choice is to give yourself enough time to do it. Getting started early will help lower your move cost if going with professional Niagara movers, as well as give you less things to pack. There are a few ways to help choose what to keep and what not to keep. Ask yourself to following questions: Will I need it or want it again? Will it be useful to someone else that I know? Is it easy to replace? If you can decisively answer yes to these questions, it may be an item worth selling.
After choosing what to sell the items must be made ready. Try placing them neatly and making sure they're clean before trying to sell them. Categorizing the items can also help potential "customers" find what they're looking for. Make sure not to overprice items.
Advertisement is key. How else can sales happen? If nobody knows about your yard sale, that's how many people will come. Try advertising on Facebook, your newspaper, Craigslist, or tape advertisements around the neighbourhood. Make sure it includes the date, time, and location of your sale.
Though it isn't a professional store, try keeping a professional attitude when making sales. Make sure you've got enough help to take care of the sale. Be prepared with change, a calculator, and the ability to sell and negotiate on all items. Being friendly will make many deals happen.
After your yard sale, there may be items left—don't panic. You need to decide what to do with the things leftover. Do you want to pay your Niagara movers to move them? Do you want to send them to the dump? Do you want to donate what you have? There are many organizations which help the less fortunate that could use some of your items. Maybe your neighbour could use something you may not need at your new place. If not—Niagara movers are ready to move anything left.
If you do end up having a yard sale to help move out some of your unwanted things, make sure to follow these tips. Once your sale is done you can call a Niagara moving company and continue in your moving process.
Bob the Mover is a Niagara moving company that offers professional moving services. Bob the Mover can help you with all facets of your move. We offer packing, moving, assembly and disassembly, as well as many other services. Our Niagara movers are professionally trained, certified, and qualified to meet all your moving needs. We handle all types of moves including business, home, apartment, long distance, and others. For a free in-home quote please contact Bob the Mover.