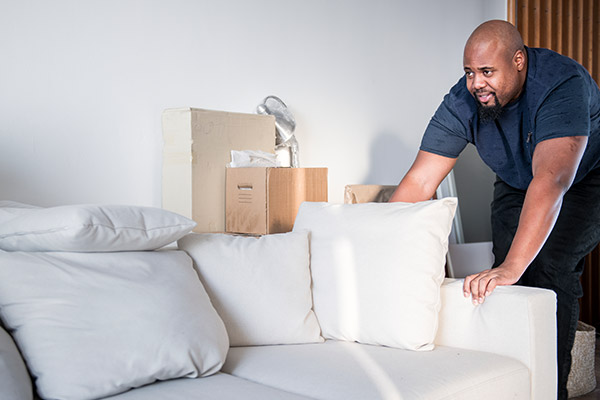 As a St Catharines moving company, we know all about the stress involved in the moving process. We see it every day! Our job is to make sure your move goes smoothly.
While we can do almost everything, there are a few things you can do to help make our jobs easier. Listed below are what not to do during a move.
1: Don't Pack During a Move
We understand things can get hectic; you may not have as much time as you'd like to get packing finished. Packing takes time but it should be done before your moving day.
It may seem like something small to leave a few items out, but having unpacked things lying around will slow down your St Catharines moving company, as well as your overall move.
Adding time to your move could result in additional costs. Being sure you're ready to go will make things easier for yourself and your moving company in St Catharines.
2: Heavy Items? Use Small Boxes.
While packing may seem straight forward, there are actually a few guidelines to follow. Different box sizes were made for different purposes. A small box is called a book box because it's already at a nearly unacceptable weight if you fill that box completely with books.
Likewise, a wardrobe box is meant to hold clothes—not hundreds of books. Having your items in their proper boxes will prevent the boxes from breaking during transport. On top of this it makes things easier for your St Catharines moving company, which in turn makes your move faster.
As a rule, think of it like this:
Small box: Books, dishes, office supplies, other miscellaneous heavy items.
Medium box: Toys, pots and pans, misc. items.
Large box: Pillows, large and awkward items, clothing.
Wardrobe box: As the name suggests, good for your wardrobe.
If your box is large, the weight should not be.
Is everything being unloaded into your garage in no specific order? Great, you don't need to label anything. Is it being unloaded into your house into a dozen different places? Label your boxes then.
A moving company in St Catharines doesn't know what's in your box unless you tell them. Are you able to sit and tell two to six movers exactly what is in each box and where it is going without creating a queue? Probably not.
If something is fragile, write it on the box. If something is going to the kitchen, write it on the box. You get the point.
While we will always be careful with your belongings, we need to know which of your boxes cannot be stacked on or contain fragile items to ensure our pack is as safe as possible on the truck.
4: Don't Avoid the Contract
Read it. Read it again. It will tell you exactly what you paid for and what you agreed to. Regardless of which moving company in St Catharines you hire; they'll all have contracts that you need to read.
While Bob the Mover has a flat rate with no hidden fees: the price you get is the price you pay; other companies may have surprise fees for simple things like putting down floor protections or blanketing your items. Read the contract to make sure you know what you signed up for.
Every moving company in St Catharines will protect your items to the best of their ability. Sometimes, things happen. You don't want to have your expensive items break and find out after you're not covered.
Talk with the company during or after the quote about their protection plans and how they will cover your items. Some may try to get away with paying based on weight. Some may offer additional coverage for a fee.
Yes, it's your house. Yes, you want everything to go smoothly. No, you likely don't have more experience than your professionally licensed St Catharines movers.
There's a reason you hired them, and they're perfectly capable of getting things done. They know how to move your TV, your grandmother's rocking chair, your family heirloom, and whatever else you're worried about.
Should you truly be uncomfortable with certain pieces being moved, try to move them yourself.
Following your St Catharines movers around and breathing down their necks' is not going to make for a smooth move. Try to avoid adjusting items multiple times or changing your mind during the process if possible. Ultimately moving pieces three or four times will slow down your move considerably.
That doesn't mean don't communicate, movers are perfectly happy to take directions. Just try to avoid micromanaging.
Keep in mind your St Catharines movers are there to move you, not to pack and align your house from top to bottom in alphabetical order. We'll move your items where you want them to go; just try to avoid asking for boxes to be placed in the exact order they need to be unpacked in the shape of a pyramid and with a tarp on top.
Bonus: What Should You Do?
Tell the movers where items should go. This is why we ask for someone to be on site.
Tell the movers which boxes are fragile. Labelling is preferred.
Offer refreshments depending on the weather. Yes, movers like to drink water in summer. It is greatly appreciated.
Aside from these points, St Catharines movers know what they're doing. They will get your move done as quickly and carefully as they can. They know how to pack and unpack a truck, as well as move any type of furniture or box in your house. If there's something already broken that needs extra care, feel free to tell them.
Remember
Moving should be less stressful when you've got a crew there working for you. Making sure your packing is finished prior to the move is the number one priority. This will allow every aspect of your quote to be fulfilled as stated in the contract.
Everything else is straight forward on moving day. Staying in place and out of the way is the best way to ensure you have a successful move.
If you're looking for a St Catharines moving company—look no further than Bob the Mover. Bob the Mover services the entire Niagara region with the utmost professionalism. For a free in-home quote contact us now. Bob the Mover is the 2020 Diamond award-winning reader's choice best moving company in both the St Catharines and Niagara Falls regions.