Niagara Falls Moving Company
The Most Professional Niagara Falls Moving Company
We offer our full moving services to the Niagara Falls area and beyond. Bob The Mover is a fully licensed and insured Niagara Falls Moving Company that is backed by years of experience, reliability, and great customer reviews at reasonable flat rates.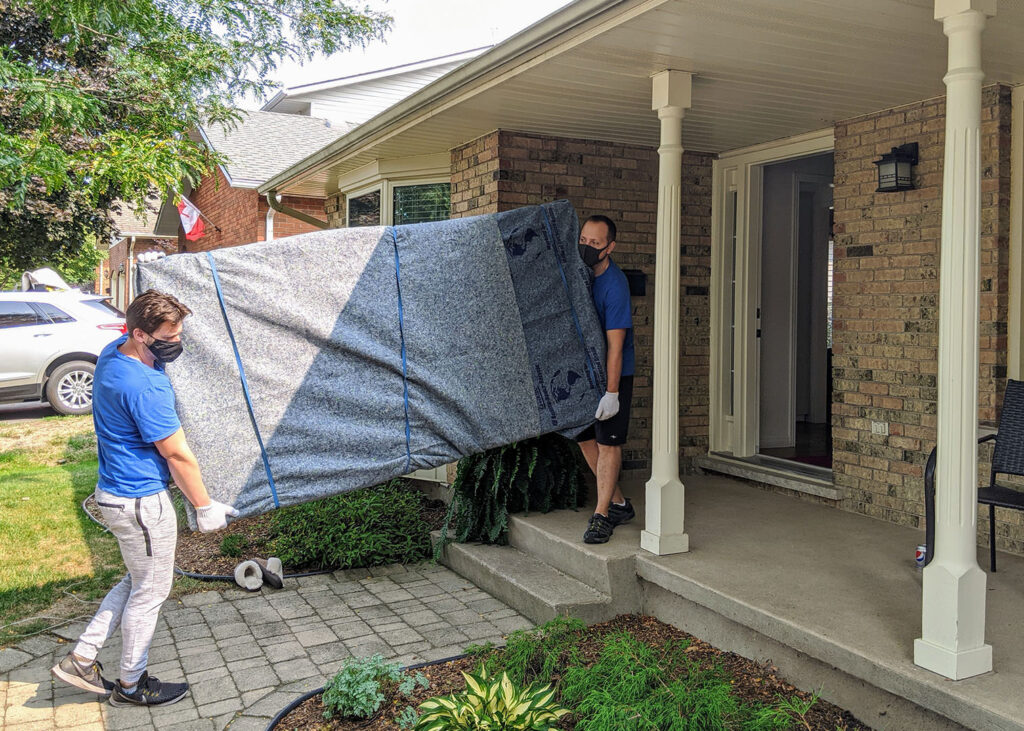 Contact The Moving Professionals!
4 Reasons To Choose Bob The Mover As Your Niagara Falls Moving Company
We will provide you with one guaranteed price with no surprises or hidden fees that is based on the items you are moving and the distance you're travelling.
2. Timely Delivery, Pickup and Drop-off
Punctuality is very important to us. Our Niagara movers will arrive on time, work efficiently and clearly communicate any delays.
3. Professional Packing Services
Packing the truck properly is one of the most difficult parts of this industry. We treat each item uniquely and have a special procedure to find the best placement on the truck. Our movers rely on experience, training and teamwork to ensure each item is secure.
We are able judge timelines, number of movers needed and size and quantity of trucks needed. We will plan your moving day to meet your timelines and needs as well as offering suggestions that will make your packing and moving experience as easy, safe and stress free as possible. We can see beforehand items that require special care, tight corners and stairs, and advise on items that may provide difficulty on the drop-off.
What Our Customers are Saying
"We are not often the type to post comments online, but we are compelled to write on the same day as our move to acknowledge Bob and his team. They took care with our items as if they were their own. Pleasant, professional, and a genuine willingness to help are just a few of the highlights of our experience. Simply, it was an exceptional job for a fair price. I would strongly recommend"
"Bob and his team were fantastic!! They were punctual, professional, and polite. I hired them for a local move in St. Catharines and was blown away by how efficiently they worked. I have used a number of movers in the past who essentially held me hostage at the end demanding more money. Not only did this not happen with Bob, but when I offered more money to move something from upstairs to downstairs again, he said "no"!!! I highly recommend this team and am grateful for their seamless and accommodating performance! 5 Stars!!!"
"We used Bob the Mover for a recent home move and they were great to work with! Bob was there himself on the day of the move and prior to the moving date was always available to answer questions etc. On our move date the crew was great - friendly and professional and stayed on time with the move too! Even when the rain started coming down the crew stayed positive and focused! We would not hesitate to use Bob the Mover again in the future and have already booked them again for our parents and an upcoming move."
"We were so pleased with the process of our move today with Bob and his team. They were efficient, kind and took great care with our belongings. Using Bob the Mover for your next relocation is the right choice. They moved us today and we have already made many personal recommendations. Thank you Bob and team for such a wonderful experience and managing the relocation of our belongings to our new home."
Always Included In Your Niagara Falls Move
We can pack your entire house and provide the materials. If you request our packing services our trained packers will arrive prior to your moving date to box, wrap and prepare your items. We will pack your fragile items, dishes, wine glasses, TVs, wardrobes, books, electronics, pictures, small appliances and most other household items for you.
Our Niagara movers can disassemble and assemble a large variety of furniture on moving day including beds, desks, dressers, tables, recliners and more.
We can bring wardrobe boxes on the day of your move to transport your hanging clothes.
What to Expect on the Day of Your Move
Contact
We will provide you with one guaranteed price with no surprises or hidden fees that is based on the items you are moving and the distance you're travelling.
Arrival
Our movers will arrive on-time with the proper moving equipment.
Introduction
You get to meet our trained, professional and friendly movers.
Walk-through
Our movers will walk through and confirm the items being moved.
Preperation
Our Niagara Movers will prep the area by placing floor runners, clearing pathways, removing doors, plastic wrapping items, placing mattresses in a mattress protectors, disassembly of any furniture, covering door frames and railings where necessary.
Load
Our movers will begin to load the truck quickly and efficiently.
Transport
Drive to the drop-off location and our movers will begin to unload the truck and place items exactly where you want them.
Assembly
Assemble any items that were disassembled.
We are your Local Niagara Falls Moving Company
Searching For Niagara Movers?
We are a proud Niagara Falls moving company with professional, trained, friendly and reliable movers. Our movers are trained to handle your items with care, whether we're moving a large sofa up stairs or moving your fragile pieces we are trained to transport your items safely and worry free.