St Catharines is one of the best cities in the Niagara region, with great food, entertainment, and proximity to the region's finest things. You do however need to be prepared for all the city has to offer.
As a proud St Catharines Moving Company, here's some advice to get you prepared in advance.
Talk to people who live/have lived there
The best way to get to know a city is to talk to the people who live there. If you don't know someone from St Catharines, try visiting some online communities for advice.
Which day works best for you? Weekends are usually better due to being free from work or other obligations. Be careful—sometimes weekends don't fall on the first week of the month when most new leases begin. Try to find a date that is convenient for you or your landlord (if you have one).
Take inventory of your belongings
While you are deciding when to move, you will learn which items are necessary and which are not. Try to reduce the number of things you move to save yourself time and money. Also keep in mind what the layout of your new house or apartment is. Make sure the things you have can fit inside your new place of living. At this point it's time to look for movers in St Catharines.
Hire Movers in St Catharines

This is obviously the most important part of moving. You can try to do everything yourself, but it is very stressful. It is better to hire movers in St Catharines. If you try to do things by yourself you may damage your valuable items. Moving can also be physically demanding and lead to injury, which can lead to issues with work. Luckily there are some reliable movers in St Catharines. One such company is St Catharines moving company Bob the Mover. Hiring St Catharines moving company Bob the Mover can save you from the risk of injury or damage to your personal property.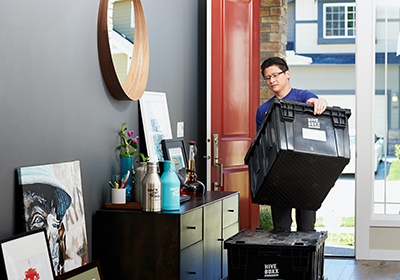 Going to Your New Residence
You should take your own vehicle if possible to go to your new residence. Consider leaving your most valuable items such as paperwork or items of sentimental value in your own vehicle.
The day you will move is very important. The movers in St Catharines will come to your house, pick up your things, and move them to your new house. With St Catharines moving company Bob the Mover or any other movers in St Catharines it is important to organize your things beforehand. Where do you want each piece to go? What do you have in each box? If you need furniture disassembled and reassembled in a certain spot, make sure to inform them accordingly. Make sure your movers in St Catharines place heavy items in the right place; otherwise, you may be unable to rearrange later.
Pack your out-of-season clothes first Try to put them in suitcases instead of boxes. It is easier to unpack a suitcase than a box. If you do not have enough suitcases, boxes substitute fine. Put your shoes and other footwear in a storage bin or duffle bag. If you are worried about taking something yourself, leave it for St Catharines moving company Bob the Mover. Make sure you properly label all of your boxes right after you finish packing them. At the very least make sure you mark which boxes are necessities. This is why we suggest carrying your valuables by yourself if you can. After this, just make sure your furniture is cleaned off and your floor is ready for moving.
Moving to St Catharines is a great experience. Overall, moving isn't always easy, which can lead to a lot of stress. If you use a systematic approach to moving, it can save a lot of stress. Not to mention hiring movers in St Catharines. To summarize, take a tour/get advice on St Catharines, buy your house/rent your apartment, choose the moving date, hire movers in St Catharines like moving company Bob the Mover.